If you love Starbucks coffee, then you may be wondering whether it's possible to replicate the Starbucks experience at home.
Starbucks uses the Mastrena II espresso machine produced by Swiss company Thermoplan AG in all its stores worldwide.
In this article, we reveal what coffee machines Starbucks uses and explain why it probably won't be practical to turn your kitchen into your own private Starbucks!
---
What espresso machine does Starbucks use?
Starbucks uses the Mastrena II espresso machine in all its stores worldwide.
Features of the Mastrena II include:
Three bean hoppers: For decaf, Starbucks Blonde, and Signature Espresso Roast beans
The ability to pull a triple espresso shot at once
Automatic internal rinses
Automatic grind adjustments
Barista alerts, including when the grounds drawer is getting full or one of the bean hoppers is running low
Like earlier Mastrena espresso machines used by Starbucks, the machine is also designed to have a low profile so that the barista can easily see over the top of the machine and is able to interact with customers.
---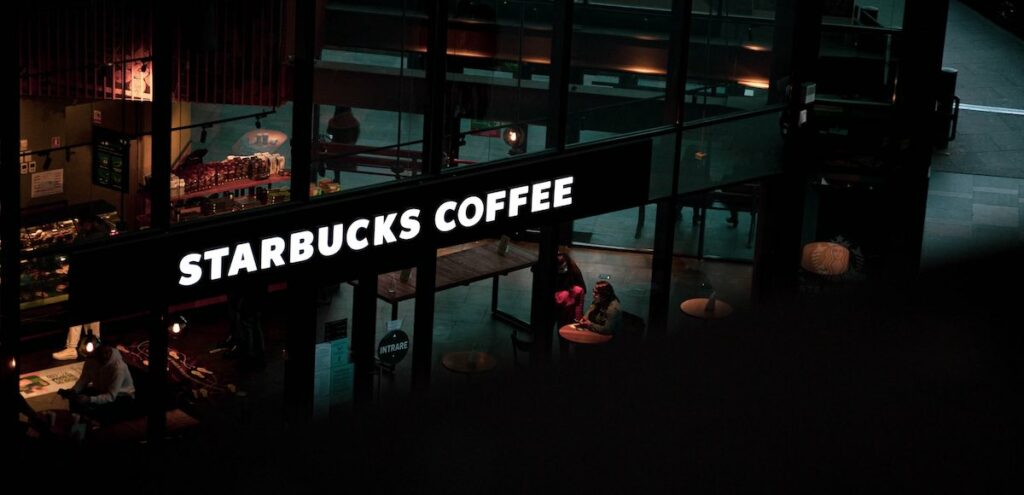 Where does Starbucks get its machines from?
Starbucks gets its Mastrena II espresso machines from a Swiss company called Thermoplan AG.
Thermoplan AG won the exclusive global contract to supply Starbucks with its espresso machines in 1999 and the two companies have worked closely ever since.
Initially, Thermoplan supplied a machine called the Verismo 801. This machine was used to make Starbucks coffee until 2008 when it was discontinued.
In 2008, Starbucks began using a new Thermoplan espresso machine: the Mastrena CS2.
This was an upgraded version of the Verismo 801 with a larger bean hopper, the ability to pulley lungo and ristretto shots, and a lower height, which Starbucks wanted in order to encourage interactions between customers and the barista.
Between 2019 and 2022, Starbucks transitioned to another new espresso machine, which was again designed and manufactured by Thermoplan AG.
Over the course of three years, the old Mastrena CS2 models were phased out of stores and replaced with the current Mastrena II machines used today.
---
How much does a Starbucks coffee machine cost?
The Mastrena II espresso machine costs approximately $18,000 per machine.
The reason for this high price tag is that the Mastrena II is a commercial coffee machine that is not intended for the home market.
The Mastrena II is manufactured to the highest commercial standards and is designed to make hundreds of coffees per day without any drop in quality or mechanical failures.
This means using the best possible materials, precise manufacturing, and rigorous testing, all of which increase the cost of the machine.
---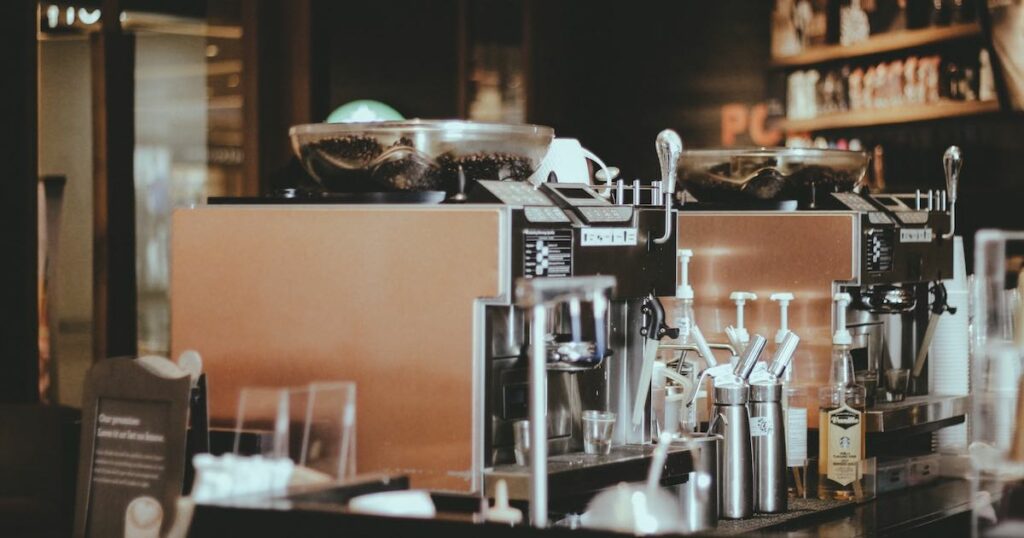 Can you buy a Starbucks coffee machine?
No, you cannot buy a Starbucks coffee machine. Due to the coffee chain's exclusive deal with Thermoplan AG, it is not possible to buy the same coffee machine currently used in Starbucks stores.
The eye-watering price of a Starbucks coffee machine (around $18,000) is just one of two reasons you won't find a Mastrena II in a home kitchen.
The second reason is that the machine is developed exclusively for Starbucks and is not sold to other commercial customers or in retail stores.
You may, however, be able to buy an earlier Starbucks coffee machine that has now been discontinued in stores but is now available on the secondary market. For example, the Verismo 801 and Mastrena CS2 are both regularly sold second-hand.
If you do choose to buy a used Starbucks coffee machine, then you should be aware of the risks. The machine is no longer supported by the manufacturer and has most likely made thousands of cups of coffee.
It may therefore be approaching the end of its life and could be very difficult or even impossible to repair when it breaks.
---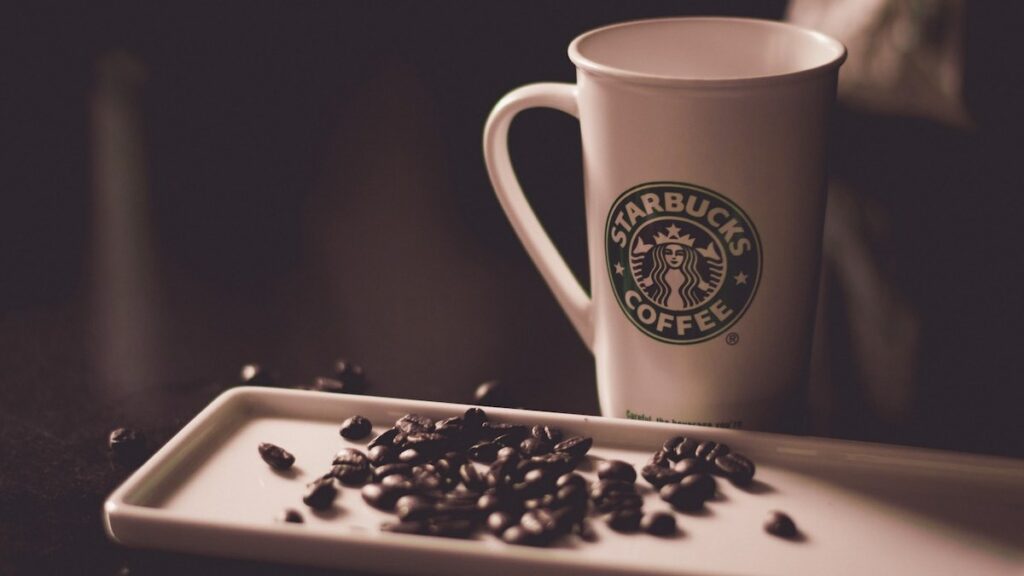 What coffee beans are used at Starbucks?
Though you can't buy a Starbucks coffee machine, the biggest factor that affects the taste of your coffee is the beans and the grind, not the machine.
So, if you want to replicate the Starbucks experience at home, your best bet is to buy similar beans to the ones used by Starbucks.
Starbucks uses arabica coffee beans from countries including Ethiopia, Costa Rica, Brazil, Colombia, and Guatemala.
Arabica beans are grown at altitude (generally between 3,000 and 6,000 feet) and contain approximately 1% caffeine by weight. Crucially, these growing conditions give arabica beans better flavor than robusta beans.
Starbucks Coffee Engagement Manager, Aaron Robinson, said:
"[Arabica coffee] can be elegant. It can be complex. It can have body and acidity that is interesting and can be used and played with and blended into new, interesting tastes. That's why Starbucks only buys arabica coffee beans."

Aaron Robinson, Starbucks Coffee Engagement Manager
Since 2015, Starbucks has been able to certify that 99% of their coffee beans are ethically sourced.
---
How does Starbucks roast its coffee beans?
Starbucks coffees are available in three different roasts:
Blonde roast: Which the company describes as "light-bodied and mellow"
Dark roast: For bold, intense flavor.
Medium roast: Between blonde and dark, offering a balanced flavor profile.
The company has eight roasting facilities, which roast Starbucks beans before distributing them to stores.
Six of these facilities are in the US to support the company's biggest market, one is in Amsterdam to deliver beans to European stores, and one is on China.
The Chinese roasting facility is part of a new $130 million 'Coffee Innovation Park', which Starbucks hopes will help it expand its operations in China.
The chain has plans to open 9,000 stores in China by the end of 2025, which means opening about 1,000 new stores per year.
---
In conclusion: Can you replicate Starbucks coffee at home?
Realistically, you aren't going to be able to replicate Starbucks coffee at home. At least, not using the same kind of espresso machine.
Starbucks uses a commercial coffee machine called the Mastrena II, which is supplied exclusively to Starbucks by a Swiss company named Thermoplan AG.
This exclusivity agreement means that the machine is not available to buy for home use, and even if it were, it would be prohibitively expensive at a cost of around $18,000.
Instead, the best way to produce something close to the Starbucks experience at home is to buy arabica beans from your local Starbucks store, grind them using a high-quality grinder, and brew them using a high-end home espresso machine.
The company sells its blonde, medium, and dark roast beans in-store and online, so you should be able to find beans that closely match your regular Starbucks coffee.
It's then just a case of practicing at home until you get the perfect grind and pull a delicious shot of espresso.
---
FAQ
What types of coffee machines does Starbucks use?
Starbucks uses Mastrena II espresso machines, pour-over coffee makers, automatic drip coffee makers, and Clover brewing systems.
What is the capacity of Starbucks' coffee machines?
The capacity varies depending on the specific machine, but Mastrena espresso machines can produce up to 240 drinks per hour, while automatic drip coffee makers can make up to 12 cups at a time.
How much is the Mastrena II espresso machine used by Starbucks?
The price of the Mastrena II is $18,000. This is the main reason you won't find it in many homes.
Can I buy the same coffee machine that Starbucks uses for my home?
Some Starbucks coffee machines are custom-made and not available for purchase, but commercial-grade machines from brands like Bunn, Curtis, and Fetco are available.
What makes the coffee machines used by Starbucks different from other brands?
Starbucks' machines are designed to meet their high-volume demands and quality standards, with features like high-pressure brewing and unique milk frothing technology for consistent espresso-based drinks, and the Clover brewing system for highlighting the nuanced flavors of different coffees. Custom features are also developed with manufacturers to align with Starbucks' coffee philosophy and sustainability goals.
---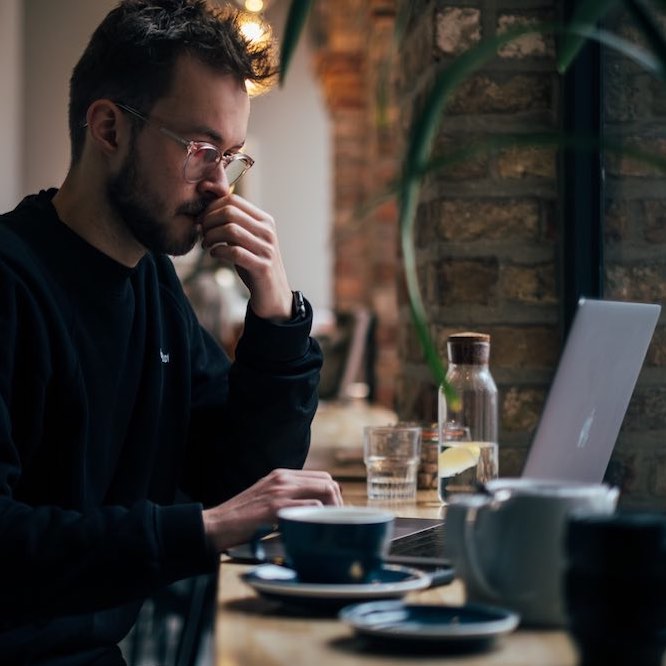 Hey there! I'm Austin and I love coffee. In fact, I drink about 5 americanos a day. I started BrewingCoffees because I wanted to share my love of coffee with the world. Before starting BrewingCoffees, I worked as a Barista for 7 years.