The humble percolator is one of the most classic coffee makers we have at home. Affordable yet simple to operate, percolators make beautiful cups of coffee that warms your heart and soul.
Suppose you are in the market for new percolators. Here are the top 3 coffee percolators to buy:
Farberware Classic Yosemite Stainless Steel Coffee Percolator
Cuisinart Classic 12-Cup Stainless Steel Percolator
GSI Outdoors Percolator Coffee Pot
In this article, we review the best three coffee percolators your money can buy today, across all budget ranges.
From these three percolators, we then pick one that we believe is the best overall of the bunch. Read on!
Top 3 Coffee Percolators To Buy
Brand name
Pros
Cons
Price
Farberware Classic Yosemite Stainless Steel Coffee Percolator
(Best Overall)
Classic design
Easy to use
No filter paper needed
Manual operated
Dishwasher safe
Lifetime warranty
Needs supervision
Plastic parts may break
May leak when pouring
Check Prices
Cuisinart Classic 12-Cup Stainless Steel Percolator
(Best Performance)
Electric percolator
Set and forget
Automatic indicator
Large capacity
Great design
No filter paper needed
No leak spout
Slightly pricey
3-year warranty
Check Prices
GSI Outdoors Percolator Coffee Pot
(Best Outdoor)
Best for outdoor use
Rustic design
Dishwasher safe
No filter paper needed
Light
Steel and aluminium construction
Lifetime warranty
Enamel finish may chip
Resin top knob may not handle direct heat well
Check Prices
Table overview: Top 3 Percolators to buy
---
Farberware Classic Yosemite Stainless Steel Coffee Percolator
Why We Like This: If all you want is a regular percolator that looks sturdy and will be sturdy for a very long time, you cannot go wrong with a brand with over 120 years of history. The percolator is easy to operate and maintain and has a lifetime warranty.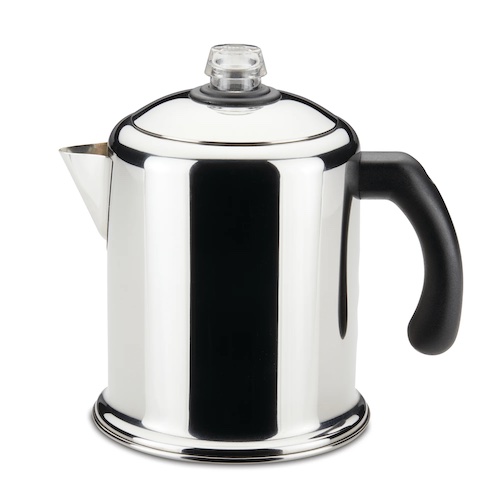 Farberware is an American kitchenware maker, founded by SW Farber in 1900. The earliest products were tin and copper cookware. Still, these days Farberware makes a large range of cookware, bakeware, and percolators.
Farberware's classic Yosemite cookware comes as classically American as it can be. It is made of food-grade stainless steel and has a design that can look at home in a modern or classic 50's American kitchen.
It is manually operated, meaning you fill the percolator with water and the basket with coffee grounds. Then, place the percolator on a stovetop and watch it make heavenly-smelling coffee.
You do not need filter paper, as the filter basket is reusable. There are also no electrical components, meaning they are machine washable. Choose between two sizes, 8 of 12-cup coffee.
If we were to complain about Farberware's Classic Yosemite percolator, we would be a little unsure about the plastic handles, as the constant heat cycle may break it. If you place the percolator on a direct fire, it may also melt the handle.
The spout can also be made better, as coffee may leak through when pouring. You may notice spills when the coffee can be poured out from the spout and when you try to tilt up the percolator. This is more obvious when you load up the percolator with water.
The Classic Yosemite comes with a lifetime warranty from Farberware, showing their confidence in their products.
---
Cuisinart Classic 12-Cup Stainless Steel Percolator
Why We Like This: This is your modern electric percolator, the kind where you set, forget, and then come back for great cups of coffee. The large size makes up to 12 cups of coffee per brew, and the pouring spout works well in preventing spills.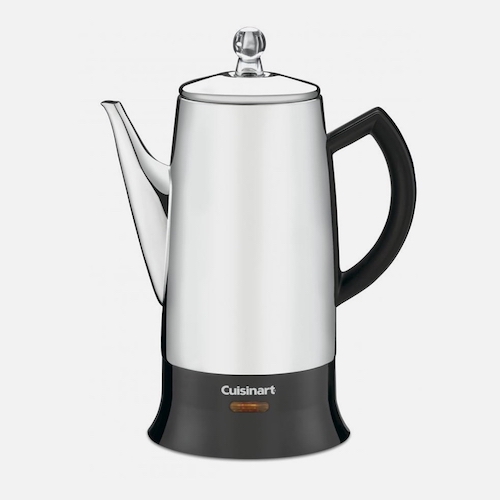 Similar to Farberware, Cuisinart is proudly American and has been around for decades. You may associate it with food processors, but Cuisinart also makes a wide variety of kitchenware.
Their Classic 12-cup percolator is their take on modern electric percolators. You operate it similarly to regular percolators, the only difference being how you apply heat. Instead of direct fire on a stove, place it on a base plate.
This should connect the percolator to electricity, which will heat and brew the coffee for you. You should see the indicator light turned on when the brewing process is complete. The percolator does not require filter paper, with the steel filter basket reusable.
The tall and thin design helps in many ways. First, it helps with storage since it will not occupy too much horizontal space on cabinet shelves and on your cabinet tops.
Some also believe that tall percolators ensure the water only reaches the coffee when it's hot, meaning you get a better-tasting coffee. Some even think a good percolator can help make cheaper coffee taste good, although this may depend on your taste buds.
The long narrow spout does the job well, preventing spills and leaks as you pour your coffee. You should notice the spouts' confidence in controlling the coffee flow when you tilt the percolator down and up.
Our issue with the Cuisinart would be the rather less generous warranty. 3 years is fine, although Cuisinart should have high-quality standards to give a warranty for at least 5-years or more.
It is also more pricey than the rest. However, we consider it as paying for convenience since it does kind of brew itself.
---
GSI Outdoors Percolator Coffee Pot
Why We Like This: This is a small, light percolator you can use outdoors. It also has a rustic look to it, which makes it stand out against the other two percolators on the list. It also comes in two sizes, with an enamel finish in three colors.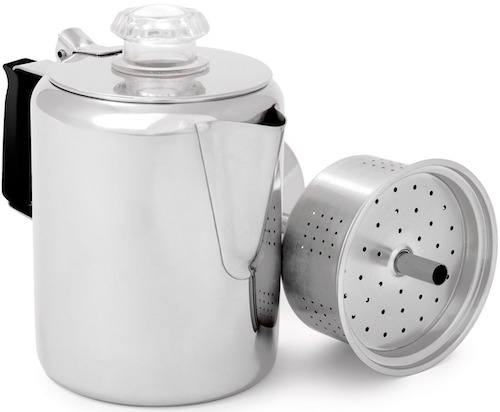 GSI Outdoors is a Canadian outdoor company founded in 1985, known for its outdoor cookware and gear. They offer several percolators, with the one we are looking at here being the most affordable option. 
It comes in two sizes, 8 or 12-cup sizes. It is built from heavy-gauge steel with a classic enamel finish. The percolators are also kiln-hardened twice at 1000°F (537°C) for durability and longevity.
Simply fill the percolator with water, and top the filter basket with coffee. Place it on a stove or on direct fire. The transparent resin top knob lets you see the coffee brewing away and tell you when the coffee is made.
The percolator does not contain electrical parts, meaning they are dishwasher safe. Should you need parts such as a replacement filter basket, you can get them at GSI Outdoors online store.
The percolator is also part of a set of other outdoor cookware from GSI Outdoors. You can shop for similar-looking cups, plates, and even small pots. Since it has reusable filter baskets, you also do not need to use filter paper with this percolator.
Our issue with the GSI Outdoors percolator is that some users have mentioned that the enamel finish may chip or scratch easily.
Some also mentioned being careful when brewing under direct fire. This is because the resin top knob may not stand up well to direct fire, and may melt and disfigure.
---
Final Verdict: Best Coffee Percolator
In this article, we have viewed three coffee percolators that present the best options for you.
If you insist we pick one for you, we will go with the Cuisinart Classic 12-Cup Stainless Steel Percolator. This percolator may be the most expensive of the bunch. Still, it does its job well, and the additional price justifies the added convenience you get.
However, suppose you just want a classic, simple-to-operate percolator. In that case, you can make do with the other two percolators on the list. These should be the type of percolators you do not need to learn to use. Just unbox, and brew away.
As much as percolators make great coffee, it does not make stronger drinks such as espresso. Percolators are also not as flexible as espresso machines, which can make many more types of coffee.
If you want to pick up an espresso or cappuccino maker for your kitchen, check out our buying guide here.
---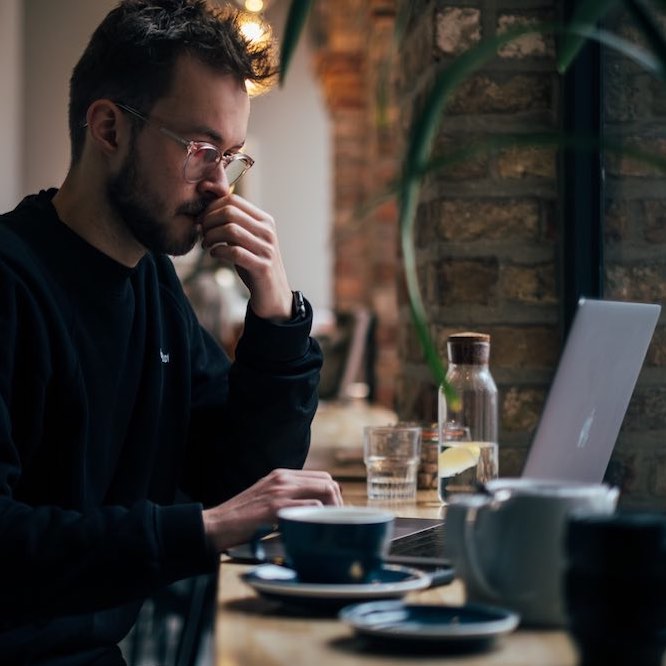 Hey there! I'm Austin and I love coffee. In fact, I drink about 5 americanos a day. I started BrewingCoffees because I wanted to share my love of coffee with the world. Before starting BrewingCoffees, I worked as a Barista for 7 years.