French press is probably one of the most popular ways to brew coffee because it is simple to use. However, a French press brews coffee differently, which may suit certain coffee beans. What is the best coffee for the French press?
The best coffee for French press are light and medium roasts, with natural sweetness and chocolatey, nutty flavor. These coffees include:
Death Wish Organic Medium Roast Coffee
Real Good Coffee Company Ugandan Medium Roast
Intelligentsia El Gallo Organic Light Blend
This post explores the best coffees you can use to brew your French press. We also looked at some examples of roasts you can pick up to make the best French press coffee.
What Type Of Coffee Suits French Press?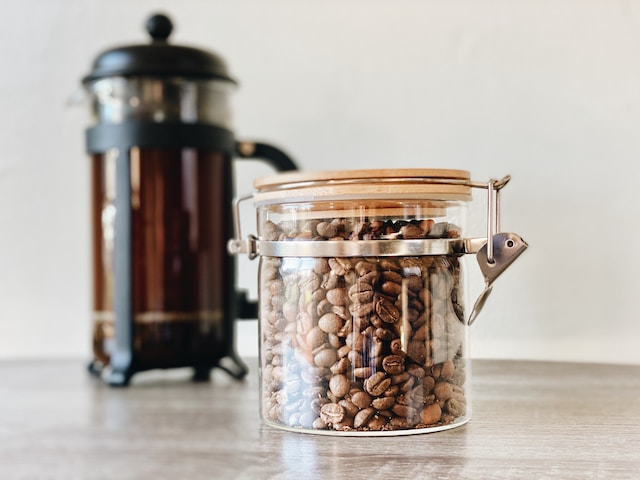 Light and medium-roasted coffee tend to do well with the French press. The French press also allows more flavor blending in the coffee, likely accentuating darker flavors such as chocolate, cocoa, or nuts.
To understand what type of coffee beans that suits the French press, we must first look at how a French press brews coffee. You can also make a classic espresso with a French press.
You start by combining the coffee grounds and hot water, allowing them to brew for several minutes. Then you use a plunger to separate the grounds from the coffee. The plunger is usually made of metal mesh.
Expert baristas see that the metal mesh made the French press different from drip coffee or Chemex. This is because the metal mesh tends to allow more flavors to pass through, compared to, say, paper filters.
As a result, a French press tends to produce richer coffee with a deeper flavor profile. You may taste darker flavors in a French press, such as chocolate or nuts. Paper-filtered brewing styles tend to reduce these flavors. Instead, you may notice more fruity, floral notes.
If you intend to get the best coffee out from your French press, consider these characteristics:
Light or Medium Roasts: Light and medium roasts generally carry darker flavors and natural sweetness that your French press can accentuate. Dark roasts can be a bit too intense with a French press.
Darker Flavors: Shop for coffee with deep, darker flavors such as chocolate, hazelnut, almond, etc. These flavors accentuate well when brewed in a French press.
Natural Sweetness: Aim for roasts with sweet notes, such as brown sugar, molasses, honey, caramel, etc. Your French press should bring out the sweetness in the coffee.
Certain Coffee Regions: Regions such as Indonesia, Hawaiian, Central, and South America tend to produce coffee suitable for French presses.
---
3 Best Coffee For French Press
Coffee Brand
Type
Roast
Tasting Notes
Pricing
Death Wish Organic Medium Roast Coffee
Blend
Medium
Stone fruit
Caramel
Peanuts
Milk chocolate
Check Prices
Real Good Coffee Company Ugandan Medium Roast
SingleOrigin
Medium
Apricot
Vanilla
Chocolate
Check Prices
Intelligentsia El Gallo Organic Light Blend
Blend
Light
Milk chocolate
CaramelCola
Check Prices
Table overview of our top 3 picks, best coffee for french press.
Death Wish Organic Medium Roast
Why We Like This: This coffee has many characteristics that should brew well with a French press. The coffee is also USDA-certified organic, which may appeal to health-conscious drinkers.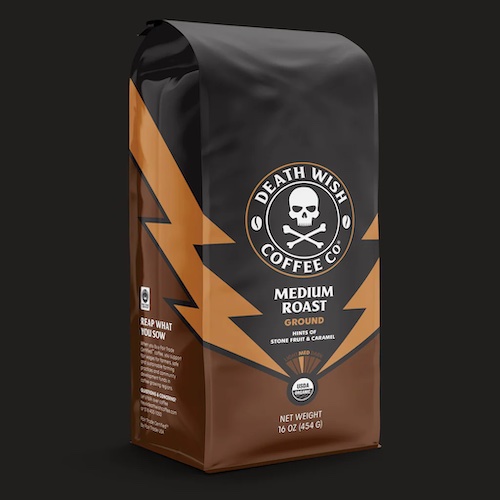 The Death Wish Coffee is a roastery founded in 2012 in Saratoga, New York. They have claimed to make the world's strongest coffee, with the highest amount of caffeine in it.
Take a sip of the coffee, and you may notice its deep, nutty flavor. This makes sense, as the roast blends Central and South American beans.
There are also hints of stone fruit, caramel, and chocolate. You may accentuate the caramel sweetness and chocolate flavor with a French press. This should make for a hearty, pleasing sip of coffee any time of the day.
---
Real Good Coffee Company Ugandan Medium Roast
Why We Like This: This single-origin coffee allows you to sample Ugandan coffee and enjoy its rich, creamy undertones. The French press is likely to bring up more chocolatey and vanilla-like flavors.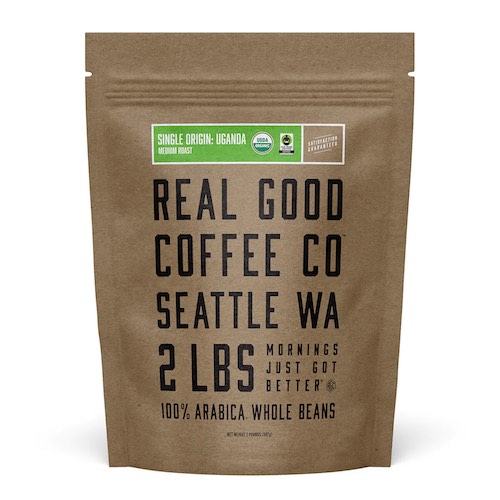 The Real Good Coffee operates from Seattle, Washington. It claims to cut out the fancy marketing gimmick and goes straight into making great coffee.
Their single-origin Uganda medium roast is one smooth, rich coffee. It is easy to sip, with hints of apricot sweetness. There are also rich, creamy undertones. We describe it as vanilla and chocolate.
A French press is likely to accentuate the latter flavors. Your coffee should taste rich, with natural sweetness from the chocolate and apricots.
---
Intelligentsia Organic El Gallo Light Roast Blend
Why We Like This: Your French press will bring out the natural sweetness in this blend, allowing you to taste caramel, nougat, and coke. It is also a smooth, easy-to-sip coffee that caresses your palate.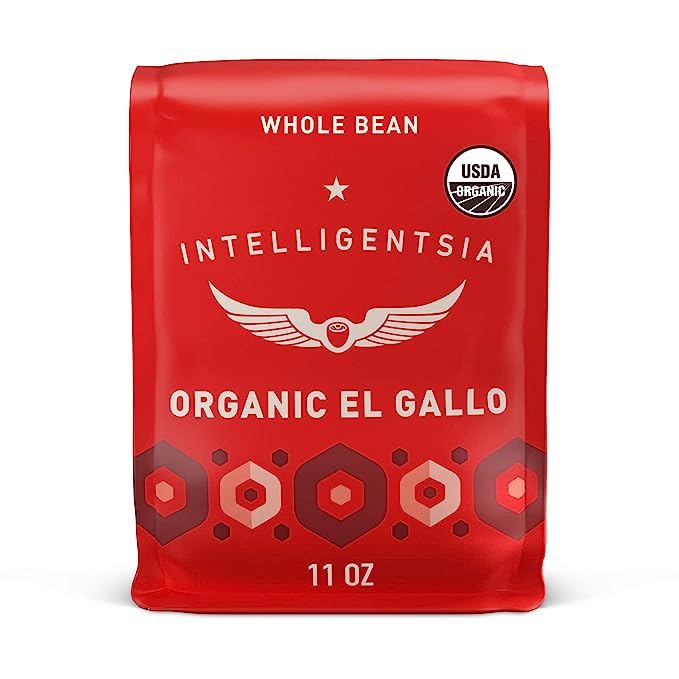 El Gallo is a blend made from Ethiopian and Mexican coffee beans. Intelligentsia then lightly roasted the beans to preserve the natural sweetness and flavor.
Brew the beans with a French press, and you accentuate the flavors. Take a sip, and you should notice sweet, decadent flavors like chocolate and nougat.
The El Gallo is best enjoyed on lazy weekend mornings, with ice on a hot day. The natural sweetness also makes it great with slightly savory food, like a cheese and egg sandwich.
---
Frequently Asked Questions About Best Coffee For French Press
What Types Of Coffee Roasts Best Suit A French Press?
For French press brewing, choose medium or light roasts with sweet notes and deep flavors like chocolate, hazelnuts, or vanilla. Look for coffee from the Americas, Indonesia, or Hawaii.
Why Are Dark Roasts Less Suitable On A French Press?
French press accentuates deeper, darker flavors due to the metal mesh filter. You may have smoky and overly intense coffee if you use a dark roast with a French press. 
What Brewing Method Should I Use For Fruity and Floral Coffee?
Use brewing methods that use filter papers. These include drip brew, Chemex, or regular coffee machines. The filter papers usually reduce deep, dark flavors from the coffee. This allows the fruity and floral flavors to stand out more.
---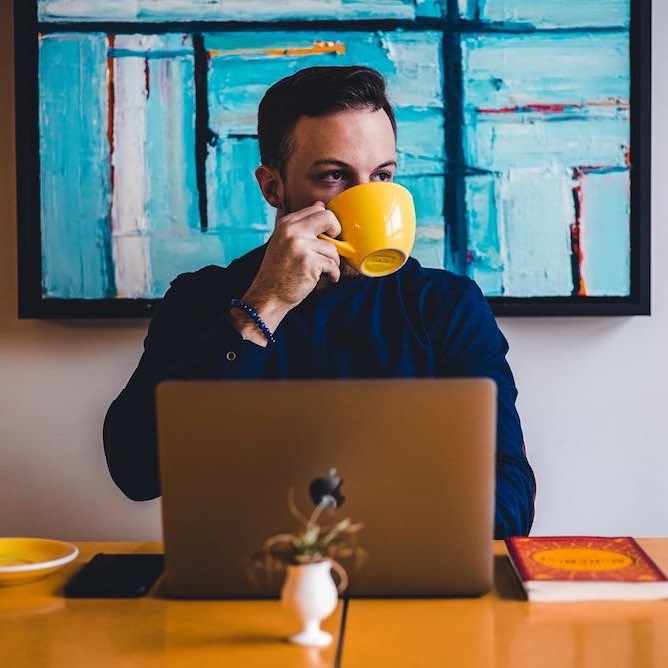 I'm Joel, an espresso-loving coffee nerd. I got into coffee because I spent a lot of time in Milan as a kid and started liking coffee waaaay too young. I'm all about making sure espresso is treated with the same care as any other coffee – it's not just a quick drink!