Do you want to add a coffee machine to your office? Keeping your team refreshed and energized with quality coffee is a good idea, but with hundreds of coffee machines to choose from, the options can be overwhelming.
The key to choosing the best coffee machine for your office is to think about the way it will be used and your individual needs.
So, whether you are running a small office, a busy office with lots of staff, working on a budget, or looking for a basic coffee maker, we'll help you find the best office coffee machine for your workplace.
---
The 5 Best Office Coffee Machines
Best for small offices: Flavia Creation 200
Best for busy offices: Jura Giga X8c
Best on a budget: Krups Opio Steam & Pump XP320840
Best pod machine: Nescafe Dolce Gusto Oblo
Best filter coffee machine: Kitchen Aid 5KCM1209
What makes these five the best office coffee machines? Read on to find out why they made it to the top of our list.
---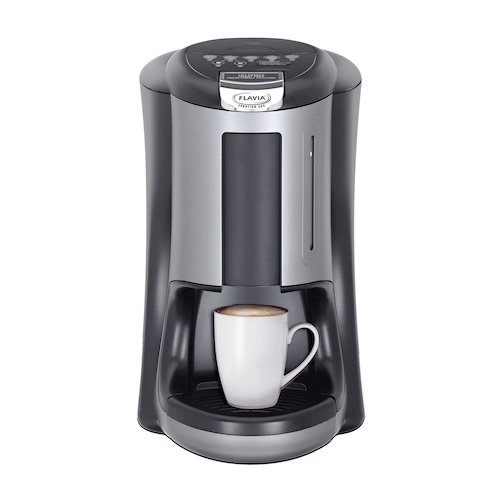 Highlights
Single-serve drink ready in less than a minute
No cross-contamination for drink purity
Brews coffee, tea and hot chocolate
The Flavia Creation 200 is our top pick for small offices because of its small size (just 9.4in wide x 15.6in deep x 15.5in high) and its flexible placement. The machine is either 'pour over' or can be plumbed in, allowing you to find the perfect spot for it within your office.
The Flavia Creation 200 only makes one cup of coffee at a time, but this shouldn't be a problem in a small office and it does brew quickly, with a total brewing time of around one minute.
The machine is also easy to use, with a clear and simple LCD display to select different types of coffee (cappuccino, latte, or mocha), tea, or hot chocolate.
If you have less than 30 staff in your office, then the Flavia Creation 200 is a great choice. However, if you have a larger office, then you may want to upgrade to the Flavia Creations 500 or the Jura Giga X8c, which is our pick of the best coffee machine for busy offices.
---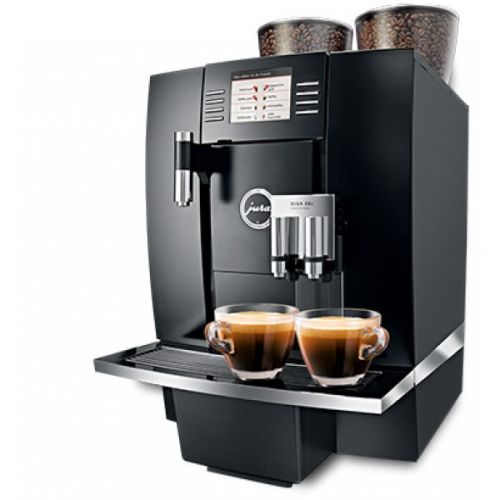 Highlights
Stainless steel body with aluminum finish
28 available specialties
87 ounce water tank
2 electronically adjustable ceramic disc grinders
The Jura Giga X8c is perfect for larger, busier offices, as it has a built-in grinder and milk frother and is capable of brewing two coffees at the same time.
The machine is also designed to handle brewing lots of coffees in quick succession. The manufacturer states that the Jura Giga X8c can make up to 200 coffees in a single day!
The final factor that makes the Jura Giga X8c the ideal coffee machine for large busy offices is the range of drinks it is able to make. Its presets include 32 different types of coffee, which should satisfy even the largest office teams with the most diverse tastes!
---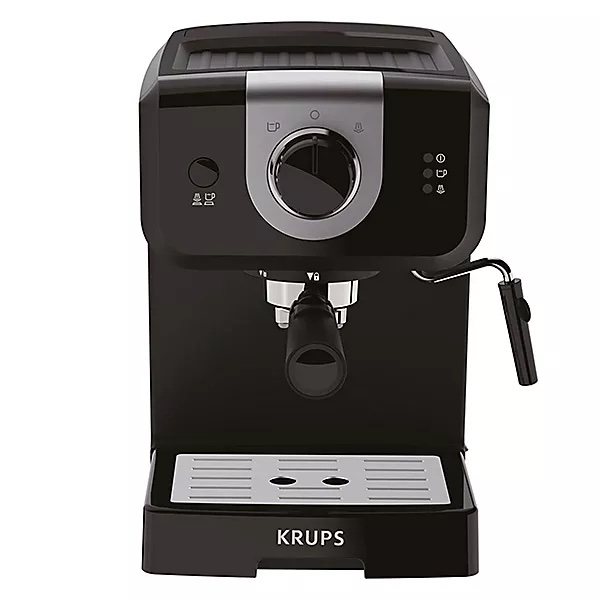 Highlights
15 bar pump espresso for improved flavor extraction with no bitterness
Manual selection for ultimate control over the final results
Steam nozzle
The Krups Opio Steam & Pump is an excellent espresso machine for the price.
It features a 15-bar pump, adjustable temperature controls, a steam wand, and a tamper with a single or double shot holder, giving you a significant degree of control over how your coffee is brewed and a barista-like experience.
The Krups Opio Steam & Pump brews quickly and can make two espresso shots simultaneously. The machine does not have a built-in grinder, so you will need to buy ground coffee or use a separate grinder.
---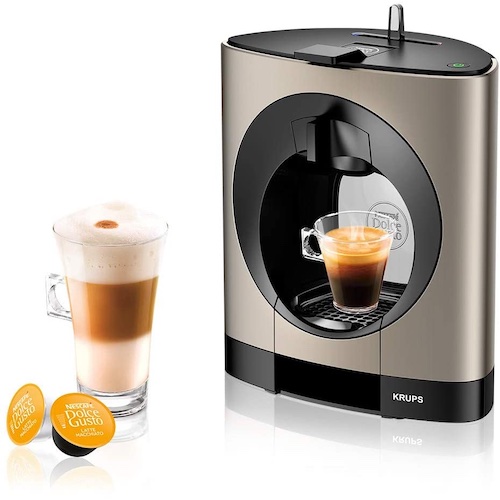 Highlights
Over 30 varieties of hot and cold drinks to chose from
Easy to use and clean
Great quality for price
If you're looking for a compact and easy-to-use pod machine for your office, you can't go wrong with the Nescafe Dolce Gusto Oblo.
The machine boasts a 15-bar pump and is able to make over 30 different types of hot and cold drinks. It's easy to use, easy to clean, and its pods are widely available in stores and online.
The only downside is that the Nescafe Dolce Gusto Oblo is not compatible with the market-leading Nespresso pods.
---
Best filter coffee machine for the office: Kitchen Aid 5KCM1209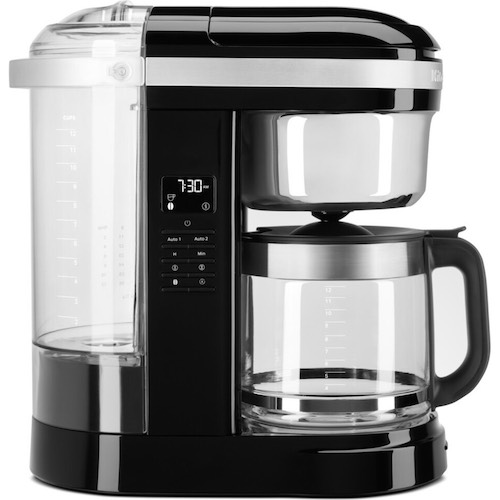 Highlights
Spiral showerhead
Dosage ladder & Dosage chart
Re-usable gold-tone permanent filter
Programmable warming plate
Not every office needs a fancy espresso machine. Traditionally, offices have made do with a simple filter coffee machine. If your employees want simple, strong black coffee, then choosing a quality filter coffee machine may be the best solution for you.
Our top choice of best filter coffee machine for the office is the Kitchen Aid 5KCM1209. It uses a spiral shower head to extract maximum flavor from the coffee grounds and comes with a reusable gold-tone coffee filter.
The machine also features a warming plate that can keep your pot of coffee warm for up to 40 minutes and a 'pause and pour' feature that allows you to pour your coffee before the whole pot has finished brewing.
---
Final Verdict: The Best Coffee Machines For The Office
Our top choice of best coffee machine for the office is the Jura Giga X8c. It is a powerful machine that can brew up to 200 coffees in a single day, making two cups at a time, and with a huge range of 32 different types of coffee drinks to choose from.
However, the right coffee machine for your office will depend upon the needs of your staff and the budget you have available.
If you have a smaller office, then the Jura Giga X8c may be overkill, and a smaller machine like the Flavia Creation 200 or a pod machine like the Nescafe Dolce Gusto Oblo could be a better fit for small and infrequently used kitchens.
Alternatively, you might not want a fancy machine to make lattes and cappuccinos, and a more traditional pot of filter coffee may be all you need. If this sounds like you, we recommend the Kitchen Aid 5KCM1209.
Any of these machines will make a great cup of coffee as long as you combine them with quality coffee beans, fresh ground coffee, or a range of coffee pods to suit the tastes of your team.
---
FAQs About Office Coffee Machines
Why buy a coffee machine for the office?
Buying a coffee machine for the office can help improve morale, keep employees feeling energized, and save time that would otherwise be spent making coffee manually or going to the local coffee shop. The coffee machine can also be a valuable social spot in the office where employees can meet and chat with each other.
How do you make office coffee taste good?
The best way to make office coffee taste good is to change the type of coffee beans you use to brew your coffee. It can also help to use creamier milk and to make sure you are cleaning your office coffee machine regularly. 
What should I stock in my office coffee bar?
We believe that every good office coffee bar should include these nine items:
– A quality coffee machine
– Coffee beans and/or ground coffee
– Instant coffee
– A range of teas, including herbal tea
– Access to hot water
– Access to ice
– Sweeteners such as sugar and syrups
– Milk, including dairy-free milk alternatives
– Mugs, cups, and glasses
---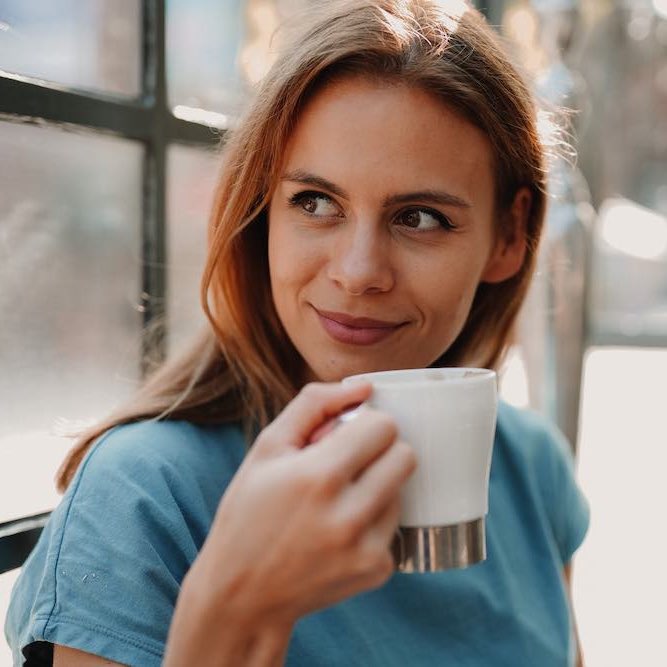 Hi, I'm Megan! I love coffee – especially cappuccino – and spending time with my kids. When I'm not busy being a mom, I enjoy reading magazines (or just about anything that interests me) and swimming. In fact, I used to be a swimmer in college!