What could be better than drinking your favorite refreshing cold brew or iced coffee on a hot summer's day? How about enjoying cold brew, however and whenever you want, using the perfect choice of coffee beans?
Cold brewing is the perfect way to enhance the flavor of your coffee – giving you a smooth, mild, low in acidity, and minimally-bitter coffee.
And the good news is that making cold brew coffee from the comfort of your home is easier than you might think!
---
The Top 5 Cold Brew Coffee Beans
The most suitable varieties of coffee beans for cold brew are ones that maintain a robust flavor after brewing.
When buying coffee for cold brew, you'll want to check on the bag for the coffee's origin, flavor profile, and roast type.
Below are five of the best cold brew beans on the market for making the most delicious cold brew coffee.
1. Colombian Arabica Coffee Beans – Stone Street Cold Brew
Arabica (along with Robusta) is by far one of the most popular coffee types among coffee lovers around the world.
But Colombian Arabica coffee, in particular, is incredibly delicious for cold brewing, thanks to its lightly sweet flavor and notes of toasted nutty chocolate.
For the best cold brew coffee, try Stone Street's 100% Arabica Dark Roast, which is specially created with cold brew coffee in mind.
2. Nicaraguan Coffee Beans – Tiny Footprint Organic Organic Nicaragua Segovia Dark Roast
Nicaraguan coffee is another perfect candidate for cold brew since it usually gives off a sweet flavor with hints of citrusy-fruity, caramel, and chocolate.
This type of coffee is often organic and shade-grown, offering a wide variety of delectable flavors depending on the roast type.
The Organic Nicaragua Segovia Dark Roast by Tiny Footprint is nutty, chocolatey, and flavorful with delicious undertones of fig and spice.
In addition, for every pound of coffee that this company sells, they offset the carbon used in production with a tree in the Ecuadorian cloud forest.
3. Colombian Supremo Coffee Beans – Fresh Roasted Coffee, Colombian Supremo Medium Roast
As already mentioned, Colombian coffee is an exceptional choice for making all types of coffees – including your favorite cold brew blend!
Fresh Roasted Coffee's Colombian Supremo Medium Roast is bold, balanced, and boasts ultra-tasty notes of honey and cherries.
This product stores very well, and you can expect the freshest-tasting cup of coffee even after a couple of weeks of opening the bag.
4. Indonesian Coffee Beans – Volcanica Coffee Company, Sumatra Mandheling Coffee
Indonesia is known as one of the largest producers of Arabica – particularly Sumatra, which is minimally acidic, being another perfect option for making cold brew coffee.
If you're looking for a slightly less sweet, more earthy-tasting coffee, you are sure to love Sumatra coffee beans!
This type of coffee is usually wet-hulled, which means it goes through a coffee-washing technique that involves de-shelling the coffee beans and allowing them to go through a fermentation process.
This creates an insanely unique and tasty flavor profile, especially for dark roasts. If this sounds like something you would enjoy, then be sure to give Volcanica Coffee Company's Mandheling a try for the perfect cold brew!
5. Guatemalan Coffee Beans – Java Planet Medium Roast Guatemala Organic
Guatemalan coffee is a real crowd-pleaser among coffee lovers who enjoy floral roasts, and of course, it makes for a super tasty cold brew!
This exceptional coffee is grown at around 5000 feet above sea level, which gives it a distinctly robust flavor.
Java Planet's Medium Roast Guatemala Organic Coffee is one of the best for cold brewing, with its floral, caramelly, fruity, and chocolatey notes.
---
Roasting & Grinding the Best Coffee Beans For Cold Brew
As well as choosing the best types of coffee beans for cold brew, you'll also want to roast and grind your coffee beans the right way too.
Roast type
Should you use light, medium, or dark roast coffee for cold brewing?
It depends entirely on personal taste, so experimenting is your best option. Don't assume that the roast you prefer in hot coffee will be the same in cold coffee, as the cold brewing method brings out unique flavors!
Some coffee experts recommend light to medium roasts as the cold brewing process reduces the acidity of the beans. In contrast, others suggest darker roasts because cold brew tends to compliment darker, richer flavors, like chocolate, nuts, and earthiness.
Whether you pick light, medium, or dark-roast coffee beans, it's certainly possible to make a tasty cold brew, but remember that lighter roasts will require a longer brewing time.
Grind size
When buying coffee for cold brew, the grind size matters.
Whether you go for pre-ground coffee beans or whole coffee beans to grind yourself, always aim for a coarse grind.
Using too fine coffee grounds for making cold brew coffee tends to result in a bitter and harsh taste due to over-extraction.
---
Final Thoughts
Whether you consider yourself a beginner home barista or a coffee connoisseur – cold brew is for everyone of all skill levels.
With quality beans, a roast that suits your tastebuds, the right grind, and a little patience, you'll be well on your way to making your favorite summer drink from the convenience of your kitchen.
---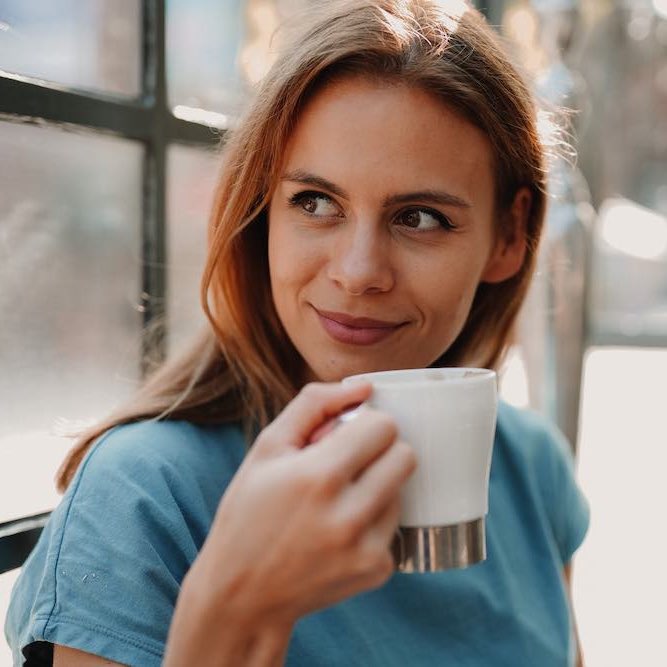 Hi, I'm Megan! I love coffee – especially cappuccino – and spending time with my kids. When I'm not busy being a mom, I enjoy reading magazines (or just about anything that interests me) and swimming. In fact, I used to be a swimmer in college!