Want to make the perfect cappuccino in the comfort of your home without searching thousands of coffee brands?
In this guide, you'll find our pick of the top 4 coffee beans for brewing a delicious cappuccino.
---
The Best Coffee Beans For Cappuccino
Avid coffee lovers will know that every type of coffee bean is unique. Differences include the coffee's origin, roasting date, the type of plant, whether it's a blend, and how it's been roasted.
If you've ever gone coffee bean shopping, you will have seen that there are thousands of coffee beans to choose from.
So, how do you know which are the best coffee beans for a cappuccino?
The type of beans
Arabica and Robusta coffee beans are two of the four types of coffee bean.
Robusta is higher in caffeine content than Arabica. It also has a more powerful body. But, at the same time, it's less sophisticated and complex than Arabica.
People tend to adore an Arabica-bean-based espresso shot. However, the ideal cappuccino should include a harmonious mix of Arabica and Robusta coffee beans.
The roasting date
Although coffee can't technically expire when exposed to the elements, its composition changes. Fresh coffee is always going to offer the best flavor.
Aim to purchase coffee beans no more than three weeks after they have been roasted.
Remember to factor in the shipping time when you buy them online.
Even cheap Arabica beans can beat the taste of expensive ones if they are fresher.
Remember that a cappuccino made with old coffee beans could taste flat and muddy, which you can avoid by using freshly roasted beans.
Blend vs. single-origin coffee beans
As their name suggests, single-origin beans originate from a single source, meaning they have their own individual and distinct flavor.
Blends are a combination of coffee beans with various origins, offering an extensive flavor profile. They are a mixture of various coffee bean flavors.
But which is better for cappuccinos? Single-origin beans or blends?
The answer is that blends are preferred as they typically have more robust flavors, and when combined with steamed milk, you can make a delicious cappuccino.
The type of roast
The roast of the coffee beans is another crucial consideration that can significantly affect your cappuccino's flavor.
You'll find that medium-roast coffee beans are most commonly used in cafes. But light-roast coffee beans are gaining popularity as more people turn to alternative brewing techniques – these beans provide more intricate flavors and fragrances.
Some pointers for choosing the right roast for your coffee beans:
Dark roasted beans usually lose their original flavor from the roasting process, resulting in a toasty, bittersweet taste.
Lightly roasted beans have a more acidic, grainy taste than their darker counterparts.
Dark roast coffee beans tend to be more oily than light-roasted ones.
The darker the roast, the less caffeine it contains.
---
The Top 4 Coffee Beans For a Delicious Cappuccino
The best type of coffee beans for cappuccino comes down to personal preference, so you'll need to experiment to find out which appeals most to your senses.
However, if you want some recommendations, here are our top four picks.
1. Lavazza Espresso Barista Gran Crema
Turin in Italy is where Lavazza's Espresso Barista Beans are produced. It's where the espresso, one of the key components of a cappuccino, was first invented.
This particular strain of Italian coffee achieves a 7 out of 10 on Lavazza's strength rating, giving it a unique, full-bodied flavor and aftertaste.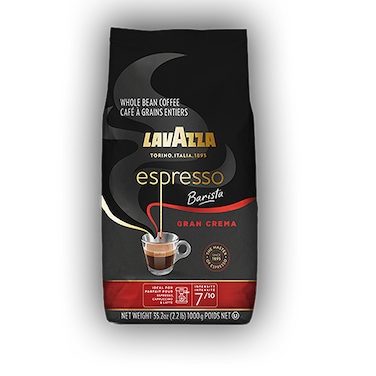 Our Pick:
Lavazza Espresso Barista Gran Crema. Rich bodied medium roast with chocolatey and spicy aroma, long lasting and round flavor, and lingering crema.
It has elements of wood, honey, spice, and cocoa, which go nicely with the silky, creamy smoothness of a cappuccino.
The Gran Crema is made of a well-balanced mixture of Robusta and Arabica high-quality coffee beans, producing a rich flavor that is neither too acidic nor too oily.
2. Death Wish Whole Bean Coffee
Death Wish, as its name suggests, is not for beginners!
These coffee beans have earned the reputation of "the world's strongest coffee" among coffee enthusiasts, as they typically have up to twice as much caffeine as other brands.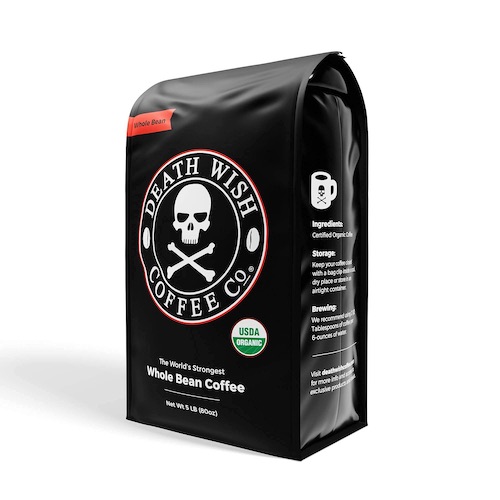 Our Pick:
The world's strongest coffee whole bean. Excellent choice for making a strong cappuccino.
These coffee beans are a fine choice for your cappuccino if you prefer a robust flavor.
Ever feel like your cappuccino tastes 'watered down' after adding the milk foam? Well, that won't be the case with this coffee!
Death Wish Coffee Beans contain delectable berry, chocolate, and almond undertones along with intense flavor.
The low acidity levels of these popular beans make them the perfect choice for those with sensitive stomachs.
3. Pellini No.82 Vivace Roasted Coffee Beans
Pellini No.82 Vivace Roasted Coffee Beans are a blend of medium-roasted 60% Arabica and 40% Robusta beans.
Pellini, another well-known Italian coffee bean brand, is renowned for its premium coffee beans that produce a creamy texture ideal for a cappuccino.
The Arabica and Robusta beans ratio is well-balanced, resulting in a robust flavor of nuttiness and spice without any unfavorable acidity or excess bitterness.
4. Verena Street Shot Tower Espresso Beans
Verena Street Shot Tower Espresso Beans are a fantastic choice if you enjoy smooth-tasting, rich cappuccinos.
This variety is both oily and low in acidity, with a robust flavor – yet not bitter.
As soon as your espresso machine works its magic, you will smell the subtle notes of vanilla, cocoa, and chocolate, which perfectly compliment the milk foam in your cappuccino.
Thanks to the velvety, creamy texture these coffee beans produce, you're in for a luxurious-looking cappuccino.
---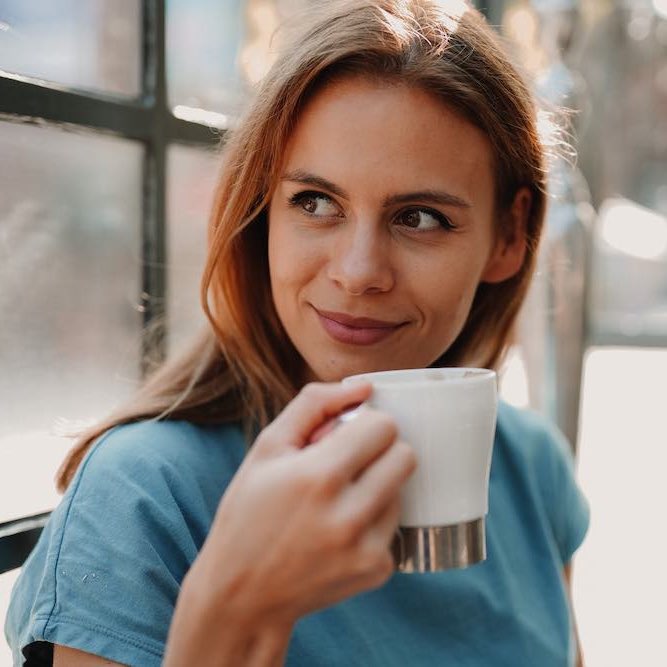 Hi, I'm Megan! I love coffee – especially cappuccino – and spending time with my kids. When I'm not busy being a mom, I enjoy reading magazines (or just about anything that interests me) and swimming. In fact, I used to be a swimmer in college!